Oktoberfest-Tischreservierungen.de ist ein Angebot der tab-ticketbroker GmbH
First Class Ticket Service
As one of the leading independent ticket providers for sold-out VIP events in and outside of Europe we take care of your demands in culture, sports and entertainment.
Our Experience
Make your next company or client event a very special occasion.
We can achieve what others think is impossible by offering tickets for already sold-out events. That only is possible through our unique international network of partners in the hotel, gastronomy, sport and entertainment industry. With a team of 10 employees we coordinate your demands and dreams around events and entertainment since 2005.
Out of Berlin and Munich we constantly work on expanding our offers for you.
Unser Credo: "Das Unmögliche möglich machen"
This is also evident at our own company anniversary:
Die Grammy-Gewinner Clean Bandit live in unserem Office mit ihrem weltweit erfolgreichen Chart-Hit "Rather Be".

Official supporter of FIVB BEACH-VOLLEYBALL BERLIN smart GRAND SLAM

Official partner of
Hockenheimring

Official premium ticket provider of Jägermeister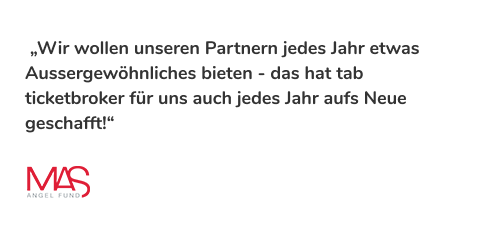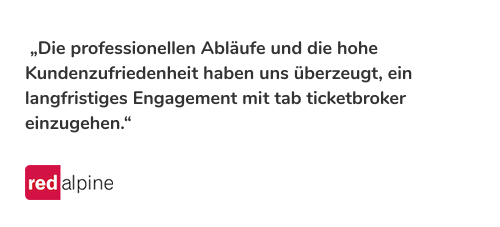 "We want to offer extra-ordinary events to our partners - and tab ticketbroker hits that goal year after year!"

"Professional operations and high customer satisfaction convinced us to build up a longterm relationship with tab ticketbroker."

Shareholder structure of tab-ticketbroker GmbH
Florian Kosak 53,83 %
Red Alpine Ventures Partner AG 16,23 %
tab-ticketbroker GmbH (ESOP) 9,09 %
BE+PA Management GmbH 8,74 %
Hugheston Capital Holding GmbH 4,84 %
German Media Pool Ventures 3,29%
West tech Ventures GmbH 1,98 %
Familie Bank Beteiligungsges. mbH 1,98 %